By Gary Symons
TLL Editor in Chief
There's a saying in the media that argues, "content is king." According to the social media giant TikTok, that saying may also apply to retail.
On Sept. 12, TikTok released a statement that promises to change the world of retail and advertising forever, while sending chills down the spines of retail giants like Walmart and Amazon. It will also make TikTok an even bigger player in the licensing industry, particularly for deals with TikTok influencers who will literally be ushering their millions of fans directly into TikTok's ecommerce portal.
The idea is simple, brilliant, and in some ways, quite startling. Essentially, TikTok revealed it is now going into the online retail business with the full launch of its new TikTok Shop in the United States. That means TikTok's fabled content algorithm will identify what its users are interested in, and then serve them up related content which also guides the consumer directly to the product.
From content to cart, TikTok is taking advantage of its massive reach to bring consumers directly from videos into its new ecommerce store. With more than a billion users globally, TikTok could be a major challenge to retail giants like Amazon and Walmart.
While the idea seems almost obvious now TikTok is doing it, it's also true that no other major company—not Google, not Amazon, and not even Facebook—are doing the same thing at the same scale. The path from viewing content to buying the product is now reduced to a few clicks and as little as one minute before the consumer clicks the Buy button.
It is true Amazon has made some forays into the content side. For example, it has been offering Amazon Live since 2019, a streaming hub that sells items through live videos. However, those videos are much more akin to actual ads, and no one would argue Amazon Live is any kind of competition for TikTok's billions of viral videos.
Amazon also recently started combining its long-form video content on Amazon Prime with retail, essentially partnering on productions like LEGO's Monkey King to get the exclusive license to sell toys based on the film. The difference, however, is that TikTok has millions of content creators putting up billions of videos, many of which are promoting products at no cost to TikTok. It is, quite possibly, the most powerful marketing and advertising machine ever envisaged since Google introduced Google Adsense and Google ads.
Choosing TikTok for Toy Advertising; Its Gen Z's Preferred Choice
The threat to Amazon and other retailers is obvious. In the US alone TikTok has more than 150 million users who tune in on a regular basis to flick through the platforms dizzying and addicting parade of content. Much of that, interwoven between funny cat videos and epic pratfalls, involves short videos on the latest trends, including fashion and beauty, recipes, and weird gizmos of all types.
The genre is particularly powerful because the videos are not ads, but they serve the same function. An influencer who pops up an ad on a new beauty product is not seen as an advertiser, making the message that much more convincing to the viewer, who will generally see it as simply more content from a TikTok contributor they already know, enjoy, and trust.
TikTok has obviously been heading in this direction for a while, as was made obvious in some of their statements this week's announcement.
"With community-driven trends like #TikTokMadeMeBuyIt inspiring people to discover and share the products they love, TikTok is creating a new shopping culture and sending products like Lion Latches and Love and Pebble beauty pops flying off shelves," the company said. "TikTok Shop will now bring shoppable videos and LIVE streams directly to For You feeds across the country—and give brands, merchants, and creators the tools to sell directly through shoppable content on the TikTok app."
When TikTok launched in the US, TLL predicted the company would become a major influence in the world of both licensing and retail, and that became true long before this most recent announcement. (You can reread that Special Report on TikTok at the link below)
TikTok has now made it abundantly clear that one of their major goals all along was to close the loop between content creators, brands, and buyers. "TikTok Shop empowers brands and creators to connect with highly-engaged customers based on their interests, and it combines the power of community, creativity, and commerce to deliver a seamless shopping experience," the company said.
Clearly, TikTok's huge audience gives it an innate advantage over online retailers like Amazon and Walmart, but there are questions about whether TikTok can translate their fanbase into a universe of avid shoppers. Having seen how TikTok has done so far with its TikTok Shop outside the US, it's apparent that there's more to replacing Amazon than just getting people to watch videos.
While TikTok has the advantage in content, Amazon, Walmart, Alibaba and others still retain the major advantage that they know the retail business inside out, and people trust them to bring them authentic products at competitive prices, and with a minimum of  fuss.
The History of TikTok Shop
TikTok Shop is new in the US, but it has been available for some time in parts of Asia and the United Kingdom. Southeast Asia is its biggest market, generating 325 million visitors to the app every month, but TikTok has still not been able to out-compete the region's largest online consumer portals, like Alibaba's Lazada, Shopee, and Tokopedia.
Those companies generate the lion's share of revenue from the roughly $100 billion spent annually on ecommerce in that region, according to data from Momentum Works. In contrast, TikTok generated $4.4 billion worth of transactions in 2022, while Shopee tallied $48 billion.
Nevertheless, TikTok is showing a great deal of momentum. Its revenue was only $600 million in 2021, so that $4.4 billion represents some phenomenal growth.
Establishing itself in the US retail market has proven more difficult, as TikTok's previous attempt through a partnership with ecommerce leader Shopify did not work out, leading to rumors the platform was dropping its retail plans altogether in Europe and the US.
TikTok Shop Still Faces Major Hurdles in the West
While TikTok Shop shows huge promise for parent company ByteDance, it also faces some major regulatory hurdles in Western countries, for two reasons.
Deadline Passes for TikTok Forced Sale With No Deal in Sight
The first is that, in the US especially, regulators and lawmakers are very suspicious of TikTok, whose parent company is based in China. The platform is facing sharp scrutiny in Washington on whether TikTok's ability to surveil its users is a security threat. One of the few things Democrats and Republicans agree on is the fear that the Chinese government could access the data and spy on the US via TikTok, despite the fact no evidence has yet emerged to support that claim.
The other hurdle is more realistic, and therefore more serious. Regulators in Europe, the US, Canada, and many other nations have raised concerns that the tech giants like Facebook, Google, Amazon, and TikTok have collectively accumulated so much influence in media, advertising and retail that they are now in effect oligopolies that are destroying competition in several industries.
In Canada, for example, the federal government tabled legislation to force Facebook and Google to share revenue to news media companies when users post news stories. The European Union has introduced online privacy legislation to make it more difficult for tech companies to track personal data from their users, and in the US there is serious discussion about breaking up some of the tech giants to restore balance in the market.
There is little question that if TikTok is successful in combining content, social media, advertising and retail into a single conglomerate, lawmakers will come gunning for them as well.
In the meantime, however, it's full speed ahead for TikTok Shop, where the company introduced a variety of new features in September that are directly tied to retail. According to its statement, those features include:
"In-Feed Video and LIVE Shopping: Shop tagged products directly from videos and LIVEs in the For You feed.
Product Showcase: Browse product tiles, read reviews, and purchase directly from a favorite brand's profile. Businesses can curate custom product collections directly on their profile page.
Shop Tab: Businesses display their products on a new product marketplace and customers can easily search and discover promotions. Product recommendations are showcased via product listings and shoppable content, and customers can manage orders, all within a single tab.
Affiliate Program: Creators can connect with sellers through new commission-based product marketing opportunities. Creators have a new way to monetize their creativity by sharing products in short videos and livestreams, and sellers can choose the Affiliate plan that's the right fit for their brand.
Shop Ads: New TikTok Shop Ads bring more opportunities for sellers to promote their TikTok Shops, so customers can discover and complete purchases all within TikTok.
Fulfilled by TikTok: A new logistics solution that lets merchants focus on their products while TikTok Shop stores, picks, packs, and then ships sellers' products to customers.
Secure Checkout: TikTok works with trusted third party payment platforms to facilitate transactions on TikTok Shop, to ensure a quick, smooth, and secure checkout process. All TikTok protected US user data is stored in the US and managed by USDS."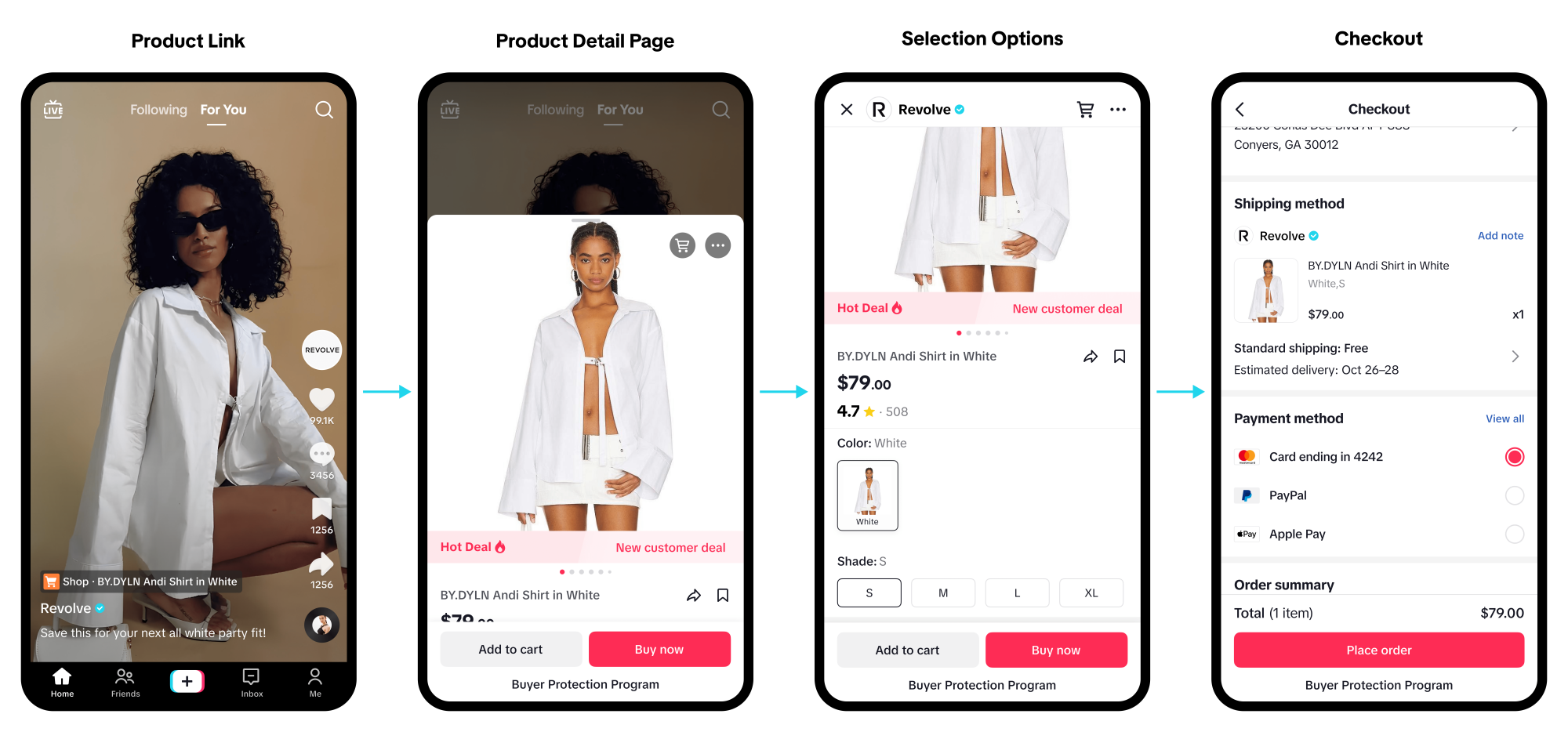 TikTok Has Been Busy Creating Sales Integrations
TikTok has also been hard at work signing deals that allow them to integrate with a variety of partners that will facilitate its retail services.
For example, TikTok now offers merchants the ability to connect with their platform from their own ecommerce platforms, including Shopify, WooCommerce, Salesforce Commerce Cloud, BigCommerce and Magento, to name a few.
It is also partnering with multi-channel software vendors, which are typically used by merchants running omni-channel retail businesses. TikTok has already partnered with Channel Advisor, Feedonomics, Productsup, Pipe17, GoDataFeed, SellerCloud, Linnworks, ChannelEngine, ShoppingFeed, and Cymbio. The company is even working with shipping services like Easyship, print-on-demand companies like Printful and Printify, and with Yotpo for user review services.
As of mid-September, merchants could sign up on the TikTok Shop Seller Center. The next 12 months will be critical in seeing whether TikTok Shop becomes a major force in retail in the US and other Western nations. And if so, there's no question the introduction of viral video will mark a seismic shift in how we work in the areas of licensing, marketing and retail.
There are already influencers who earn hundreds of thousands of dollars from a single post, and many who enjoy lucrative marketing or licensing partnerships. That trend is now about to increase massively, as TikTok throws its billions behind the growth of TikTok Shop as it attempts to close the circle between product placements and product sales.